Federal-Board Increased the Passing Percentage
The Federal Board of Intermediate and Secondary Education (FBISE) has announced an unexpected increase in the passing percentage of matric and intermediate.
The pass rate for the exams for the Secondary School Certificate (SSC) and Higher Secondary School Certificate (HSSC) has climbed from 33% to40%, according to the official statement.
FBISE made the decision to hold distinct practical tests rather than composite ones at the SSC and HSSC levels in a separate development.
The Federal Board announced on Twitter that classes 9,10,11, and 12 practical exams will be held independently. Moreover, the decision will become effective beginning with the 2024 annual exams.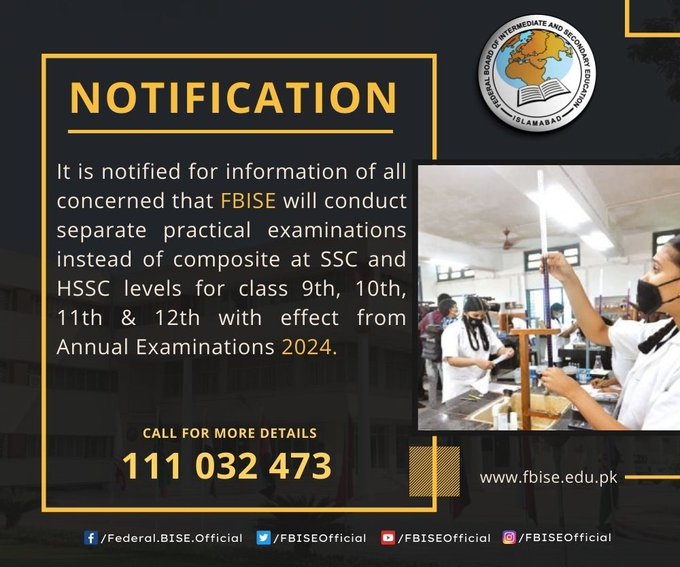 FBISE and EduCareer, a platform for education and career advice, signed a Memorandum of Understanding (MoU in order to launch EduCareer in Malaysia. According to specifics, the effort aims to assist Pakistani and foreign students with FBISE/Pakistani credentials. Additionally, the Federal Board intends to gradually introduce EduCareer to more nations.
The board's rules apply throughout the federal capital and to all other educational institutions desirous of seeking affiliation with the board from inside and beyond the country. Moreover, it also included schools located within the authority of Cantonment Boards created under the Cantonments Act, 1924 that desire affiliation of the Board.
The percentage of FBISE students who pass the SSC and HSSC exams is comparatively high: 86.58% of the students passed the most recent exams of SSC-II.
Some students may or may not be happy as Federal-Board increased the passing percentage of matric and intermediate exams.